Posted by Jana Edele | Filed under Burlesque, Burlesque Body Sculpt, Dallas, Dance Class, Dance-Fitness, Fort Worth
Our November session for our burlesque classes will begin Nov. 3rd. We will be posting more information shortly. For now, save the date! 
You can RSVP for this session through our Facebook event on our BBS page
This workshop will be at our new dance home, House of Funk (2553 Valley View Ln, Farmers Branch, TX 75234)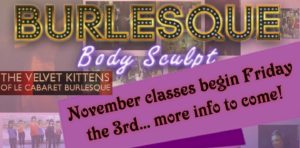 Our burlesque classes were previously held at Arts 5th Avenue in Fort Worth for the past few years. We have just recently moved to our new dance home, House of Funk. Please help us spread the word. We look forward to dancing with you!