Posted by Jana Edele | Filed under Adult, Burlesque, Dallas, Dance, Fort Worth, Show
Thank you to everyone who made it out to Saturday's show. We had a frightastical fun time! Next show, Un Noel Coquin (A Naughty Xmas), will be presented in Plano at the Rover on December 5th and 6th, and at Arts 5th Avenue in Fort Worth on December 13th.
For those who missed our Halloween inspired variety show, Spellbound Frightacular: A Night of Frights, Delights, and Things That Go Bump in the Night, here's a few backstage pics from our spooky variety show!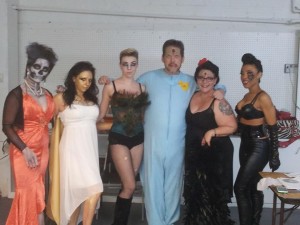 Have a happy and safe Halloween!