Posted by Jana Edele | Filed under Burlesque, Cabaret, Dance, Show
The Velvet Kittens of Le Cabaret Burlesque will be presenting a full-length revue show at the Can't Stop the Serenity music showcase!  The VK of LCB shows provide a cast of professional dancers, singers, and actors for an evening of comedy, dancing, and live "vintage nightclub" entertainment that's unlike anything else in DFW!  We will also be featuring guest performances by both Dallas and Fort Worth Burlesque Body Sculpt™ student dancers.
Join us Sunday, July 10th at the Fort Worth Grotto (517 University Drive, Fort Worth, TX 76107) at 7:30 pm and help us raise money for a great cause! Tickets/cover: $5.00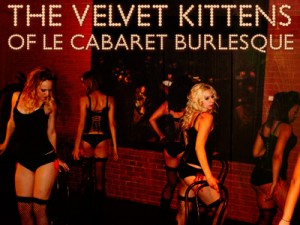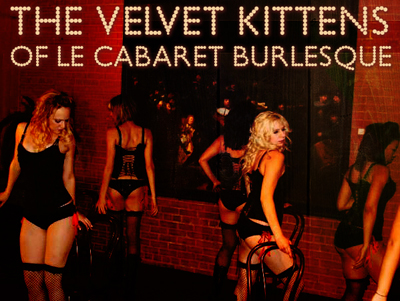 There are two ways to fight a battle like ours.  One is to whisper in the ear of the masses, try subtlety and gradually to change the gender expectations and mythic structures of our culture.  That's me.  The other is to step up and confront the thousands of atrocities that are taking place around the world on an immediate one-by-one basis.  That's great deal harder, and that's Equality Now.  It's not about politics; it's about basic human decency.
-Joss Whedon
About Can't Stop the Serenity:
Between May and September thousands of people around the world will participate in "Can't Stop the Serenity" fund-raising events to benefit "Equality Now," a charity organization working to protect the basic human rights of women and girls across the planet.  The volunteers who organize the "Can't Stop the Serenity" charity events are fans of the sci-fi television series called "Firefly" and its climatic movie, "Serenity."  This annual celebration of equality and Joss Whedon's birthday is known as "Can't Stop the Serenity," and the men and women behind it are simply known as "Browncoats" after the heroes of the show.
About Equality Now:
Equality Now was founded in 1992 to work for the protection and promotion of the human rights of women around the world.  Working with national human rights organizations and individual activists, Equality Now documents violence and discrimination against women and mobilized international action to support their efforts to stop these human rights abuses.
Through it's Women's Action Network of concerned groups and individuals around the world, Equality Now:
~Distributes information about human rights violations
~Takes action to protest these violations
~Brings public attention to human rights violations against women