Posted by Jana Edele | Filed under News
Velvet Kittens Skye Vega and Stevie Swan will be appearing on the national TV show Body Shots!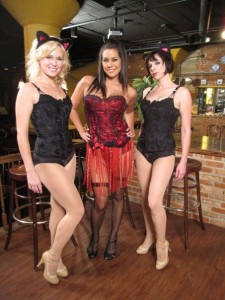 Pictured: Velvet Kitten Stevie Swan, Body Shots host Chelsie Prendez, and Velvet Kitten Skye Vega
What is Body Shots about?
Body Shots is a show that teaches you all about alcohol, your favorite types of alcohol, where it's made, where it comes from, and how you can make your own. The host, Chelsie Prendez, guides you through the process of alcohol production and consumption while two bikini girls, Tawna and Jayme Lynne, tag along to spice up the ride. The show includes great How-to segments, on-location trivia contests, product giveaways, and much more.
Body Shots is currently airing on MAV TV, on Mondays and Thursdays – 8:30pm PST.
You'll catch the Velvet Kittens on the Prohibition episode.
Stay tuned!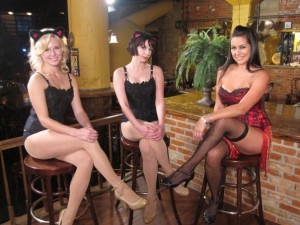 Pictured: Stevie Swan and Skye Vega being interviewed by Body Shots host Chelsie Prendez
Wanna book the Velvet Kittens on your TV show or upcoming film project?
Contact us!