Posted by Jana Edele | Filed under News
The Hepcat Hop!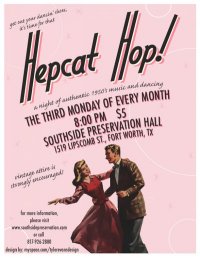 The Hepcat Hop is a 1950's music night in Fort Worth held on the 3rd Monday of each month at the Southside Preservation Hall.
From the Hepcat Hop:
This event features authentic 1950's music compiled by Tyler Evans. Each song played was recorded between the years 1950 and 1959. Whether it's rock'n'roll, doo wop, rockabilly, jive, rhythm & blues, country, hillbilly bop, or anything else, it's getting played! Vintage clothing is STRONGLY encouraged!
All ages are welcome, and admission is $5. BYOB.
When: Monday, September 21, 2009
At: 8:00pm – 11:00pm
Where: Southside Preservation Hall
(1519 Lipscomb Street, Fort Worth, TX 817.926.2800)
Come out for a fun time, and make sure to bring your dancin' shoes!
(Find The Hepcat Hop on facebook)
………………………………………………………………………………..
The Southside Preservation Hall is a non-profit organization that consistently offers social activities and classes for the community. From big band nights, swing dance lessons, to the Hepcat Hop, the Southside Preservation Hall offers a collective of opportunities for a singular social experience. Check their website for additional events.