Posted by Jana Edele | Filed under News
That's right DFW, it's a Sunday night burlesque show, and for a good cause!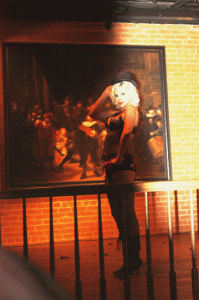 At 7:00pm the Velvet Kittens will be performing a full length vaudevillian-burlesque extravaganza tonight at Poor David's Pub in Dallas (1313 South Lamar St, Dallas TX 75215) for the Can't Stop the Serenity Dallas charity event benefitting Equality Now.
The Velvet Kittens Revue tonight features the fabulous burlesque dancers Stevie Swan and Skye Vega, sultry singer Lola Love, comedian Dawn Diamond, special guest Danny-Boy, and the hilarious emcee Johnny Johnson.
For more information about this event:
and
_____________________________________________________________
There are two ways to fight a battle like ours. One is to whisper in the ear of the masses, try subtlely and gradually to change the gender expectations and mythic structures of our culture. That's me. The other is to step up and confront the thousands of atrocities that are taking place around the world on an immediate, one-by-one basis. That's a great deal harder, and that's Equality Now. It's not about politics; it's about basic human decency.
– Joss Whedon
……………………………………………………………………………………………………………………………………………..
Joss Whedon's acceptance speech from Equality Now