Posted by Jana Edele | Filed under News
We've already begun the count down to the opening night of the Velvet Kittens' newest burlesque spectacular! Eight days to go…and counting!
Everyday we'll post one reason why we think you should brave a Thursday night and see Sugar Moonlight. It's the Velvet Kittens. Tsk, tsk…as if you need any other reason.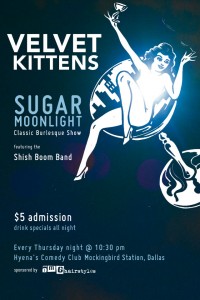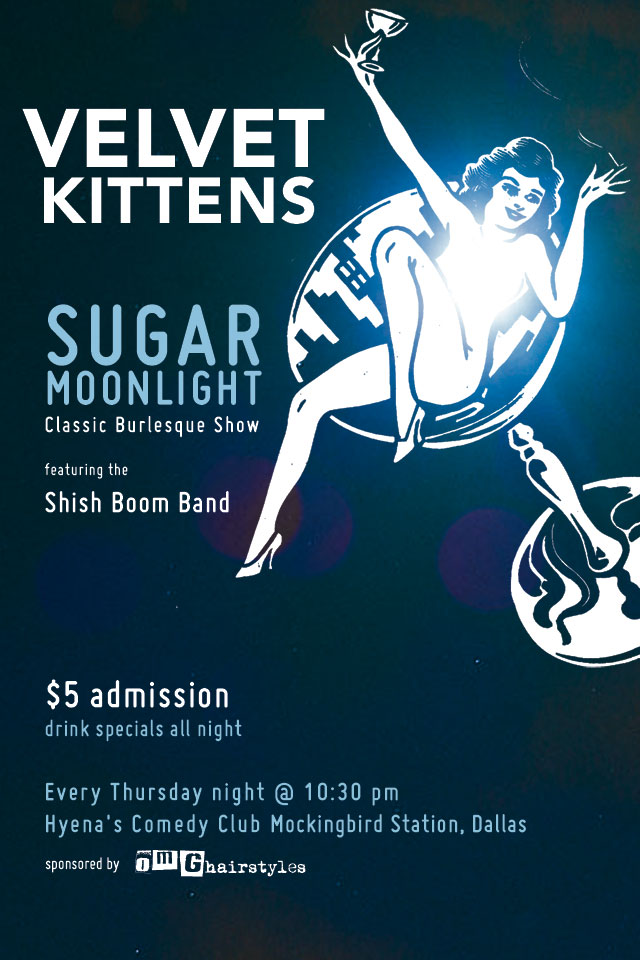 Number 8: Bianca says so!
"It's a completely unique show in the DFW area. No one else is doing mainstream burlesque with a live band every week." The stunning Velvet Kitten burlesque dancer Bianca Suite gives her top reason why you should attend Sugar Moonlight.
This burlesque production features original professional choreography tailor-made for Sugar Moonlight and the Velvet Kittens. Each musical selection has been hand picked & arranged to set the mood on this fantasy showcase. Lavish, colorful and custom designed costuming decorates the dancers, and reflects the music, dancing, and setting of the evening. This innovative floor show provides a fresh, new image on the revival of "vintage" entertainment. With Sugar Moonlight housed exclusively in Hyena's and selected especially for the intimiate setting, you'll feel a heart beat away from the fabulous Kittens entertaining you for the evening, the "It" girls of burlesque.
So Reason Number 8 is Bianca says so! Bossy girl. Or, experience a new, unique burlesque show in DFW.