Posted by Jana Edele | Filed under News
Not since the hey day of burlesque has Dallas had an on-going weekly professional burlesque show, and the creator of the Velvet Kittens is pleased once again to bring the experience back to DFW!
From the talent behind Hyena's original Fort Worth Red Light Burlesque Revue and Le Cabaret Burlesque's production of the vaudevillian-musical Cirque de Amore, musical director Daniel Totten & director/choreographer Jana Edele of the Velvet Kittens invite you to the opening night of a whole new burlesque extravaganza!
Sugar Moonlight: A Classic Burlesque Revue!
Starring Velvet Kittens Skye Vega, Lola Love, Bianca Suite, & Stevie Swan! Featuring Dawn Diamond! Introducing the sensational Kitten house jazz band, the Shish Boom Band! And original costuming designed by Eric Sands!
Sugar Moonlight is the one burlesque show you won't want to miss!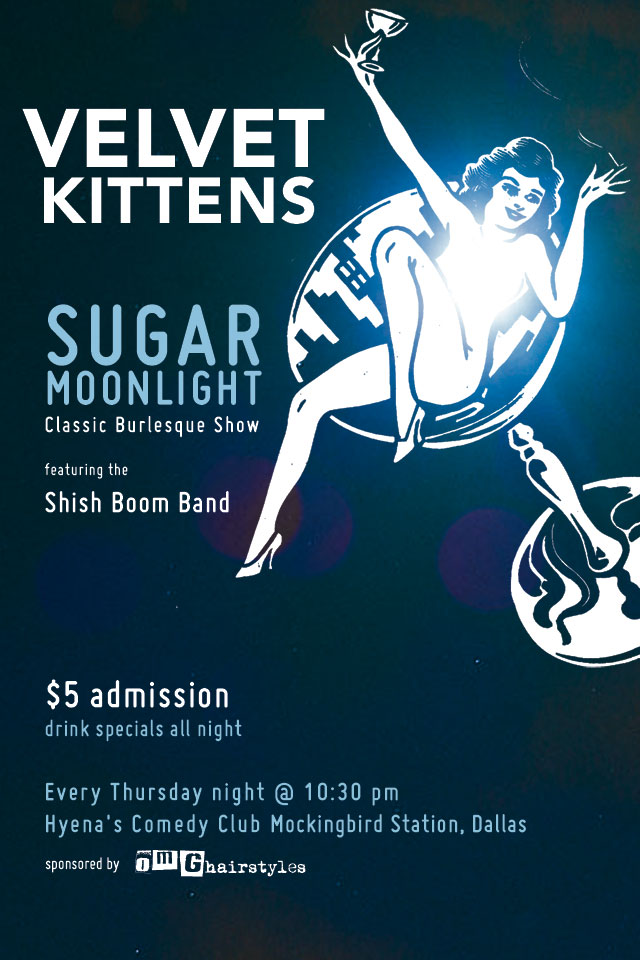 ****Sugar Moonlight will be presented exclusively at Hyena's Comedy Club in Dallas every Thursday night, and open to the public beginning May 7th (in Mockingbird Station, next door to the Angelica Theater). Doors open for the burlesque show at 10:15pm. Show time: 10:45pm. $5.00 Admission. Please contact Hyena's for reservations: www.hyenascomedynightclub.com or at (214) 823-5233.