Posted by Jana Edele | Filed under News
Halloween is just a few days away! Still looking for ideas? May we propose the ever fashionable burlesque dancer for Halloween?
Looking for something a bit different, or just helpful hints on putting together your very own burlesque costume? The Kittens are pleased to not only present suggestions, but are also willing to divulge costuming secrets to assist you in discovering the purrfect burlesque costume for you! Over the next couple of days we'll be here to assist you with a variety of Burlesque Costumes.
Proposal #1: "The Classy Kitten"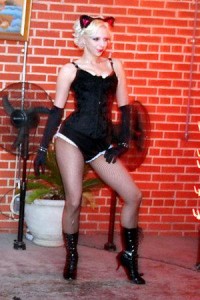 Dress in the signature Velvet Kitten attire!
Here's what you need to achieve the "Classy Kitten":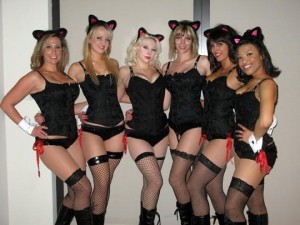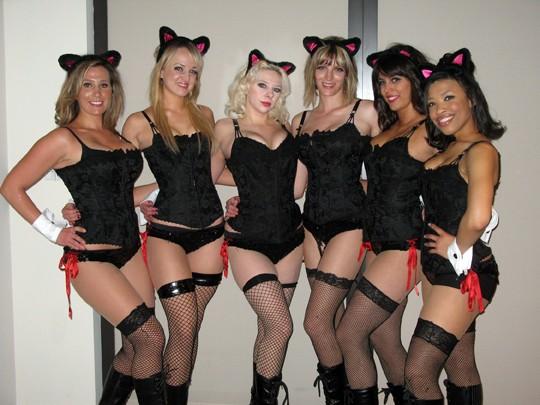 1. Kitten ears!!! These can be purchased at any Halloween or costume store.
2. The signature Kitten corset: The Kittens are often seen in black, but choose the color that allures your inner Kitten. The corsets the Kittens wear can be found at any Fredericks of Hollywood store.
3. Matching panties. Sometimes we're in sequins, sometimes we're with ribbons or lace. Find which one you find irresistible! We usually purchase the Legg Avenue line of sequin panties, which can be found at a variety of costume shops. I recommend Fort Worth Costume Shop on Forest Lane, or Electrique Boutique. Lace panties are also available at these locations. Or just a simple pair of solid colored panties to match your corset can do the trick!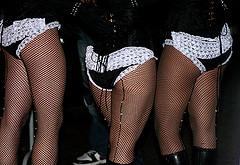 4. Most importantly, fishnets! Fishnets are available at a variety of locations. Try Fredericks, Electrique Boutique, Target, costume shops, stores carrying Halloween costuming, major department stores, or dance attire shops. There is a wide assortment of fishnets available on the market. If you are looking to for something more re-usable that won't easily snag, I suggest buying dance fishnets. Capezio makes a fantastic seamed fishnet that lasts forever!
5. Boots! Most the Kittens wear boots from Electric Boutique. Boots and heels can be purchased easily at most department stores as well.
6. Suggested embellishments: Cat chokers! Sometimes just a little ribbon around the neck can be the final addition to top off any burlesque costume. Adding gloves (short or long) is also a pleasant addition to the Class Kitten burlesque costume. And garter belts can be especially sexy! These can be purchased at any lingerie store. There are fishnets with the lace garter belts attached as well, and fishnets designed to attach to garter belts.
7. Fake Lashes! There are a variety of lengths, colors, and decorations available. Electrique Boutique offers a nice assortment, and these are usually available at your local shopping centers during the Halloween season.
8. Aw, the fabulous glitter! The Kittens generally obtain their ornamental body glitter at Electrique Boutique. Glitter lotions, powers, and shimmers are also fantastic and easy to apply. Victoria Secret and Fredericks are great locations to find these scented secrets. Remember: Most importantly, you'll want the shimmery body decoration, and cheaper versions work just as well. Velvet Kitten hint on applying loose glitter: avoid lotions just before applications, and avoid rubbing it on. Either gently shake it on, or have a friend blow it on. Last thing you want is a big smudge of glitter that takes forever to spread!
Kitten safety measures and suggestions…
Adding a bra to a strapless corset is a great way to ensure everything stays tucked out of sight! Pick a bra that closest fits the color of your corset. If you raise your arms in a strapless corset, be prepared to present "the girls" to friends and fellow guests.
Also, you'll want a little breathing room. Tighter looks nicer, but being able to sit comfortably is important on a fun night out!
Your sequin or lace panties just don't seem to cover enough? Wear a base panty under that covers all your goodies! Walmart has briefs in a variety of colors that are extremely inexpensive.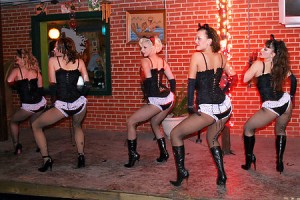 The Kittens will be back with more Burlesque Costuming Ideas!